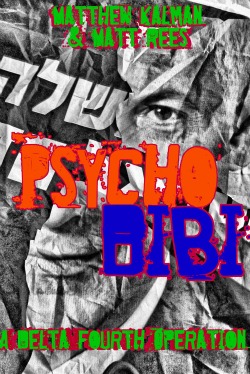 Like Barack Obama, who's in Israel now for some chinwagging, I've met Bibi Netanyahu many times. Like Barack Obama, I know that there's something almost unfathomably complex going on inside the man's head. By the end of his trip to Israel, Barack Obama might be ready to write a book called PSYCHOBIBI. Unfortunately for him, I got there first.
In PSYCHOBIBI I write with Matthew Kalman about the psychological struggles behind the Israeli leader's self-destructivenes. We get deep inside Bibi's psyche by using telling moments from our many meetings with him over the years. Here's an example that didn't make it into the ebook:
I once spent a day with Bibi touring polling stations on election day. It was the typical compact between a politician and a journalist. The journalist gets access; the politician gets covered, gets publicity. Bibi gave me that. But in the style to which I've become accustomed, he undercut himself.
At the end of the day, we went to a memorial service for his mother. We picked up his wife and sons en route. At the service, my photographer had them pose, offering to take a family picture to send along to Bibi. As he gathered his wife and children around him, Bibi said: "Come on. Let's get something out of all this."
As if the politician-journalist compact didn't exist. Or was beneath him.
I didn't care. But there are plenty of journalists who'd have felt scorned or humiliated by the breaking of the compact. Because if the one side thinks it's not getting anything (or says so), then it makes the journalist a cynical user. (Which we are, but we don't like to be confronted with it.) Of course, the real reason was that he had to hit out at someone because he was about to meet his father. That's a factor at the heart of Psychobibi…
The man I call Psychobibi does this kind of thing all the time in his political life, too. It colors his diplomacy and his interactions with other Israeli politicians and international figures. In PSYCHOBIBI, we show exactly why Bibi does it.