Download the truth behind the Palestinian leader's killing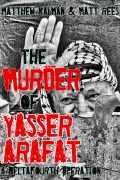 My ebook The Murder of Yasser Arafat is available for FREE download this week. Get the US edition or download the UK edition. Download it by Friday to get it free.
Written with Matthew Kalman, The Murder of Yasser Arafat reveals for the first time the true murderous story behind the death of the historic, controversial leader of the Palestinians. We uncover a plot that reached to Yasser Arafat's inner circle. The Times of Israel calls it "racy and provocative." Le Parisien says it's "written with the style of crime novel."
If you enjoy your free ebook, I hope you'll pick up our other Middle East nonfiction ebook. It's called Psychobibi: Who Is Israel's Prime Minister and Why Does He Want to Fail? Here's what it's about:
Benjamin Netanyahu is locked in a deep psychological battle with the ghosts of his tough father and golden brother. The result: Bibi's driven to succeed, so long as he can always get it wrong in the end. Confused? You won't be. Not after you've met Psychobibi. Hard-hitting and irreverent, incisive and hardboiled. Get the US edition. Download the UK edition.
Related articles across the web