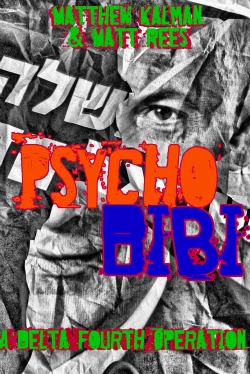 The excellent alternative news site 972 has a great review of DeltaFourth's ebook PSYCHOBIBI: Who is Israel's Prime Minister and Why Does He Want to Fail? Dahlia Scheindlin writes that the book is 'swift-paced' and 'ominous.' The thrust of our book is that Bibi has been driven to the top of politics by the desire to prove his father wrong (because the old man picked his long dead, heroic brother as the one who'd do great things), but also forced to fail by his need to allow that his beloved brother would've been better at the prime minister's job. Dahlia picks up on our unconventional writing style:
The book reads as if Kalman and co-author Matt Rees share the same alter-ego: a parody of an investigative-detective-spy team, who think in wry, self- or other-deprecating cracks. On being assaulted by Bibi's desire to share a cigar-smoking session… they write: "Good God, he intends for us to smoke the thing. DeltaFourth's lungs constrict at the mere thought. We must grit our teeth and think of journalism (which only makes us grit our teeth still more)."
The book's available on amazon.com (and .co.uk, .de, etc.) for $2.99. The 972 article, incidentally, lists the price as $5. Dahlia, who's based in Tel Aviv, probably got that price because amazon doesn't always show the correct price when you look at the site from overseas. In any case, for that money you could almost buy Psychobibi and our other co-authored ebook, the much-acclaimed THE MURDER OF YASSER ARAFAT.
Read a chapter from Psychobibi.